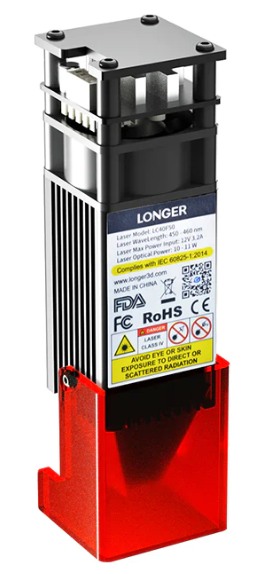 For people who have the Longer Ray5 laser engraver that came with the 5 Watt laser module, there now is an upgrade.
Instead of buying a whole new 10 Watt laser engraver, you can now buy the spare 10 Watt module, so you save a lot of money.
The 10 Watt laser module has an extremely condensed spot of only 0.06mm square and can therefore make deeper cuts than most of its rivals. Longer even claims that it can cut 20mm(!) wood board. (not verified by me).
Model: LC40F50
Laser Technology: Compressed Double Beam Technology
Wavelength: 450 – 460 nm
Max Power Input: 12 V 3.2 A
Optical Power Output: 10 – 11 W
Focus Type Fixed Focus: 50mm Focal length
Ultra-fine Laser Spot: 0.06*0.06mm2
Laser Class: FDA Class IV, or Class 4 IEC standard
Applicable Material:
1. Engraving: Plywood, Basswood, Hardwood, Pinewood, Acrylic, Kraft paper, Stainless steel, Aluminum alloy, Ceramics, etc.
2. Cutting: 10mm Basswood, 14mm Pinewood,6mm Acrylic, 4mm Bamboo, Kraft paper, etc.
Working Temperature: 0℃~70℃
Net weight:285g
Package Size: 230*100*125mm
Package Weight: 435g
Packing List: 1x 10W laser module; 1x focusing column